Disclosure: This shop has been compensated by Collective Bias, Inc. and its advertiser. All opinions are mine alone. #TeaProudly #CollectiveBias
I was 18, sitting in the library, the night before a big paper was due. It was already 11pm. I was exhausted and I had about as many words on my screen as you've read so far on this page here. I needed help. Had I ever even had coffee before? I don't think I had. I was never big on tasting things off my mom's plate or anything (maybe she didn't let me) so I had never had coffee when she did.  But there was a coffee shop in the library.  Okay, I told myself. I need caffeine.  I'll go grab a coffee and power through.
Blech!  How y'all drink this stuff I'll never know. 
I couldn't even taste it beyond my first sip.  I tried adding more sugar and cream but when it started looking like actual milk, I knew I just needed to figure out another option. This was really before energy drinks were popular so I didn't even really know about those and I probably wouldn't have tried that anyway. But I was getting more tired and less interested in writing.
I called my mom.  
It's what I always do, even to this day. I've always had an amazing relationship with my parents. My mom always has the answer.  Even to things that I wouldn't ever know she has an answer for, she seems to always know. I really hope that we are raising our girls where they feel the same way about us.  That they can proudly tell us all their accomplishments and confidently call on us with all their concerns.
Tea, she said.
I got the tea.  I proudly finished the paper. All was right with the world.
Fast forward, and tea is my go to for my own girls when they are feeling down or need a warm drink. Whenever I want to give them a warm, fuzzy feeling, I proudly go into the cupboard and grab my box of Bigelow. There's something so soothing about a warm glass of freshly brewed tea with honey. I've even gotten Larisha to drink it. She was never a fan, but she's learning the appreciation.  Typically, I've always done flavored or green tea, but even I am trying to expand my tea palate. We currently love the Constant Comment flavor. The scent of oranges and spices immediately boosts your mood as soon as you open the package to grab a tea bag.
The perfect pairing
Pairing a warm glass of Bigelow Constant Comment black tea with these Caramel Banana Scones is a great way to start the day.  Ever since becoming a parent, I noticed myself (and even..okay especially, Larisha, dragging in the morning). These kids are exhausting to both of us. The Caramel Banana Scones are easy to make and the warm banana taste topped with caramel sauce and melted butter is perfection.
Caramel Banana Scones
Ingredients
2

very ripe large bananas

1/2

cup

vanilla Greek yogurt

1/4

cup

brown sugar

1

egg

2 1/2

cups

flour

2

tea baking powder

1/4

tea salt

1

tea cinnamon

1/4

tea nutmeg

1/4

tea cloves

4

tbs

cold unsalted butter

cut into pieces

1/2-1

cup

chopped walnuts

Brush with heavy cream

whole milk would work also

caramel sauce recipe
Instructions
In a small bowl, beat together the bananas and Greek yogurt.

Then, add in brown sugar and egg.

Beat until just combined. Set aside.

In a large bowl, whisk together the flour, baking powder, salt, cinnamon, nutmeg, and cloves.

Add in cold butter and with your hands or a pastry cutter, work the flour and butter together unto no large pieces remain.

Stir banana mixture into the flour mixture until just combined.

Fold in the nuts.

***Don't overwork the dough***

On a baking sheet, lay a piece of wax paper.

Lightly dust with flour.

Then roll out dough or press out with hands until you get a 10" disk about 1" thick.

Lightly sprinkle the top with flour and another sheet of wax paper.

Place in freezer for 30 minutes.

Preheat the oven to 400 degrees F.

Remove from freezer.

Using a sharp knife, slice the dough into 8 equal pieces like a pizza.

Remove from both sheets of wax paper and slide each piece out so they are no longer touching as they will grow when baking.

Brush the top of each piece with heavy cream.

Bake 20 to 30 minutes, until scones are a light golden brown.

Remove from oven and let cool completely.

Drizzle caramel sauce over scones.

Slice scones open and top with softened butter and more caramel sauce.

Best if served same day.
Grab a box of Constant Comment from Bigelow at Wal-mart the next time you're there!  You can also hoover over the image below to stop shopping today (Pick-up anyone!?)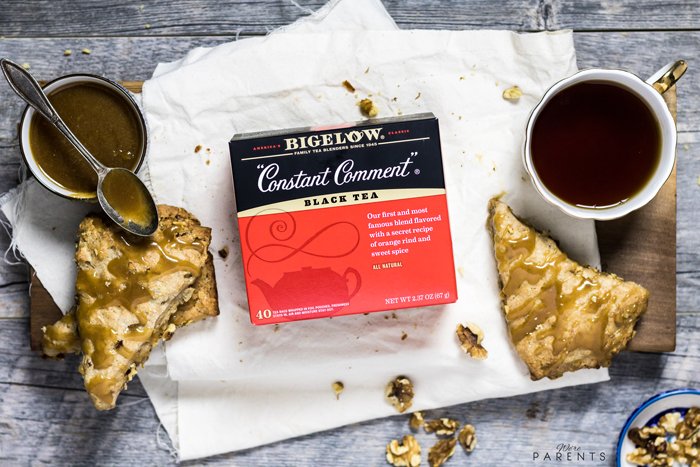 Find Bigelow on Social at Facebook, Twitter, and Instagram!