Everyone needs a little pick me up sometimes.  Start your day off right with this 365 Daily Quotes of Encouragement Free Printable! 
Disclosure: This shop has been compensated by Collective Bias, Inc. and its advertiser. All opinions are mine alone. #BigelowTea #TeaProudly #CollectiveBias
Three years ago, I walked into our bedroom to see what appeared to be some sort of explosion.  There was stuff everywhere.  Papers and scissors, craft boards that I haven't seen since high school social studies class project days, and some bottle of stuff called Mod Podge. I had no idea what was going on at the time. Larisha could sense my confusion and said, "Don't worry, just making a vision board." A-do-what?
Since then, I've seen the effects on how having something that is in your face to read every morning can change your mind set and help you reach your goals. Waking up and reading, "You are awesome" or "You've totally got this" when you aren't in such a great mood to start can absolutely change the mindset of anyone. If you're willing that is. 
Larisha and I also realized that this type of encouragement helped our girls as well, mainly our older girl right now. You see, she's at this awesome, but vulnerable age currently.  Telling her to pick a paper out of the jar that says "You are beautiful" or "Today's going to be amazing" lights her up so much.
While the visions boards are old news for us, the encouragement jar is something new. For us, we try to pick one of the 365 Daily Quotes of Encouragement out of the jar as a family. Every morning, our new tradition starts by making a cup of Bigelow tea- we've really been loving the Green tea with pomegranate. Then, whatever that piece of paper says, we try to stick to that as our mantra for the day.
January is actually Hot Tea Month, so it's the perfect time to pick up a new tradition of a cup of tea and daily quotes of encouragement jar. You can hover over the image below to see how you can easily purchase Bigelow tea at Walmart.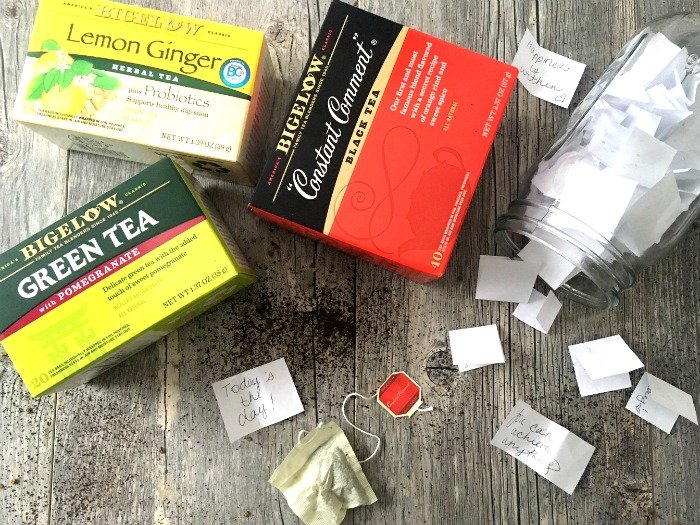 We truly believe in the power of encouragement. Because of that we wanted to make this as simple as possible.  We have (almost) every thing done for you. The supplies you need are:
Scissors
Quart size Mason Jar or other container
Bigelow cup of tea (favorite flavor up to you! Hint: Try the Orange & Spice)
All you need to do is make your favorite cup of tea. Then, enjoy while you are waiting for the printable to print out. Next, cut out all the phrases of encouragement while you drink your tea. Finally, place in a jar and pull one out each day.
What are your New Year New You goals or plans for the year? Leave a comment below and let me know! Make sure the next time you are out shopping, you can a box of Bigelow tea from Walmart.
Check out more from Bigelow on social!
Facebook     Twitter     Instagram
#TeaProudly #Sweepstakes (1/16 to 2/28)