Disclosure: This "Free Daily To Do List Printable" shop has been compensated by CollectiveBias, Inc. on behalf of its advertiser, ZonePerfect. #MyLittleWins #CollectiveBias
I never imagined how hard parenting life would be. Every stage has it's own obstacles and just when I think I am getting my life together, something else comes crashing in, throwing a wrench in our plans. After our second was born, I decided that I needed to create systems. These systems didn't need to be complicated. They just needed to be able to work for us and be able to change through the seasons of parenting. I mean I'm constantly cleaning up, while they are constantly pulling stuff off. It's a never ending cycle.  I needed help!
Get Your FREE Daily To Do List Printable at the bottom of this post. 
Daily to do lists became how I would survive, especially in the beginning of having two kids. I would wake up and grab a piece of paper and write down what I could think needs done for the day. It's Little Wins™ like this that helped me get through each day of parenting. The needs of moms are never ceasing and we typically are always interrupted. I didn't want to forget what needed to be done.
But, I needed more. 
The daily sheets of paper were great for a while. However, I was feeling guilt about wasting paper. I had gotten a laminator recently, and naturally, I decided to just create a printable that I was able to laminate and then reuse over and over.  It was perfect. I have it hanging in our kitchen with velcro and I'm able to fill it out at the beginning of the week and get everything done as needed.  It's perfect.
Know what else is perfect for busy moms? ZonePerfect® bars.  I mean, literally, the word perfect is right there. I constantly forget to feed myself and having these bars around help. Hover over the image below to grab them at Walmart.com. I personally love the  ZonePerfect® Cinnamon Roll and ZonePerfect® Fudge Graham. They help me make smarter choices in eating throughout the day!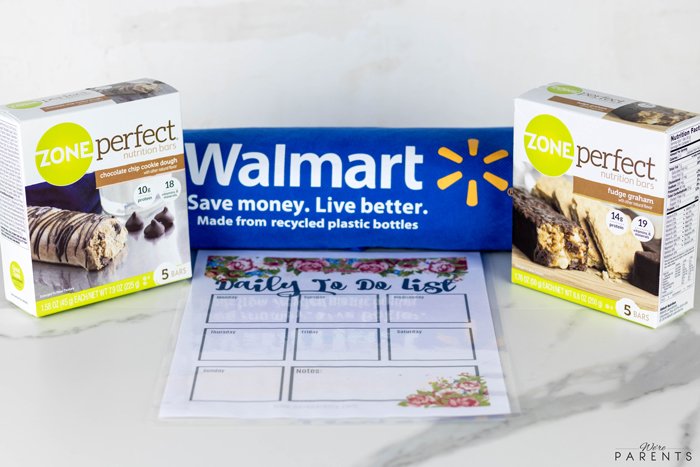 Sign up for Ibotta and earn $1.00 with the purchase of ZonePerfect® Nutrition Bars at Walmart.
You can win big with Little Wins too! Enter the sweepstakes below to win up to a $1,000 Giftcard